Metroid Prime Hunters-Nintendo DS (2006)
Metroid Prime Hunters is absolutely brilliant. A first person shooter with an addicting and absorbing story mode and multiplayer modes. Hunters is a great game and is definitely one of the best Metroid games of all time. It's a great game to play with your friends and you and your friends will be laughing and laughing and laughing about just shooting at each others heads. Utterly brilliant.
The adventure mode sees you (Samus) going to an area of space called the alembic cluster. The alimbic cluster was ruled by the ancient race known as the alimbics. Many many years ago these aliens somehow went missing. Samus Aran has been drafted in to help the Galactic federation after they intercept an odd message from the cluster saying that the secret to ultimate power is there. However, its not just the Galactic federation that received the message. A group of evil bounty hunters has also found out about this and now they are rushing to the cluster. Will our heroine find it before the evil bounty hunters?
There are many different controls and will take some time to get used to. But here is in my opinion the easiest control method. Use the stylus and the touch screen to look around, double tap the touch screen to jump. To shoot press L. to move use the D-pad. Of course I am right-handed so I use right handed controls, but if you are left handed then there are alternate controls for you.
The top screen shows your visor. It has your health at the top (in story mode. In multiplayer there is a bar on the right) it has an aiming cursor. It also shows your ammo is you are using a arm cannon weapon or your missiles. On the bottom screen it has a radar, and also has various weapon icons along the top. There is also an icon you can tap to become your morph ball form, so you can roll or bomb-jump. Also there is a switch for her scan visor. You can then scan enemies, lore and also to operate switches.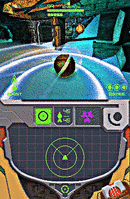 The multiplayer-modes are very entertaining. You can play with up to three friends, by using single card play, multi card play, or Nintendo wi-fi connection. With DS download play you can play across 15 arenas in death match mode. You can also do team death matches. If you are the player with the game card you can choose which bounty hunter you play as. If you're a downloader however, you have to play as Samus. If everyone has their own DS game cartridge, then you can play as whichever bounty hunter you want and also with 6 different match types. The multi-player modes in this game are very addictive and highly appealing.
To summaries the game is very easy as all the comments on this game are positive. It's a genius game for DS and suits it exactly. Its single-player and multi-player modes both are very good and very fun. The story is gripping and keeps you interested. This game is one of those must have games on DS.
overall rating-9/10
Written by sozettaslow
Luxury Yacht Charter Sicily - Aeolian
Panerai Luminor Marina PAM 00090 PAM00090 replica